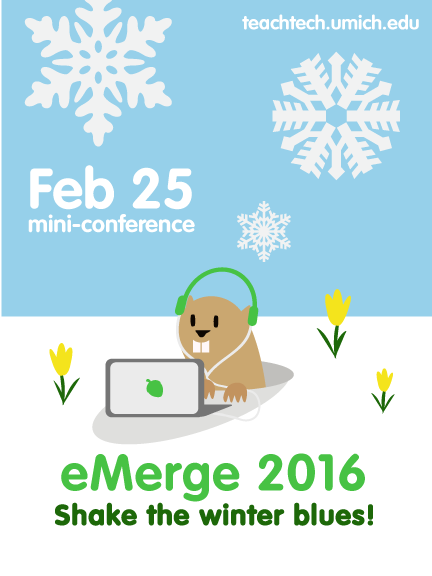 eMerge : Thursday, February 25 : North Quad
Shake the winter blues and start looking forward to spring (term?!). Join our teachtech community for our second annual Winter mini-conference on Thursday the 25th of February. We've got a full slate of hands-on workshops, demonstrations, and discussions scheduled, all 75-minutes each, leaving time between sessions for conversation and consultation.
Plan to spend an hour, or two, or the whole day with us in the Language Resource Center on the first floor of North Quad.  Enjoy a snack and talk teaching and technology with fellow faculty and staff from across campus.  Explore a new tool, share a story, and engage in our community of curiosity and practice. All sessions are FREE, but do require registration.
Please register in advance for sessions you expect to attend, especially LUNCH, so that we can order the right amount of food.
And, of course, Enriching Scholarship 2016 is scheduled for May 2-6.with registration opening on April 4.
---
What is TeachTech?
The Teaching and Technology Collaborative (Teachtech) works to help U-M faculty and instructors learn and incorporate technology into their teaching and research. Our member consultants and their representative units work together to connect you a wide variety of services and experts from across the University of Michigan campus.
Want to attend a workshop?
Workshops are offered throughout the year at various locations. Click "Upcoming Sessions" above, or type a topic of interest in the search box. All Teachtech workshops are free.
Prefer a consultation? 
Not sure what you need, or know what you need but not sure how to get it? Click "Consultants" above to learn more, or email teachtech@umich.edu