Announcing teAch-feAst!
Join us for our first ever TeachTech FeastFest on Friday, November 21st!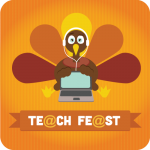 We're offering short sessions throughout the day focusing on tech tools, topics, and techniques to support teaching and learning.
Sessions are short — just 75 minutes — to give you a chance to sample something new, or perhaps to revisit something that sparked your interest at Enriching Scholarship last spring. Learn about emerging projects and opportunities. Connect with kindred teachtech souls from across campus.
Topics include video-conferencing, PDF annotation, mobile note-taking, new assessment options, analytics and special audiences, Coursera at UM, Canvas for course websites, integrative learning, interactive video, and more!
Autumnal snacks will be provided. Sessions beginning at noon include lunch.

What is TeachTech?
The Teaching and Technology Collaborative (Teachtech) works to help U-M faculty and instructors learn and incorporate technology into their teaching and research. Our member consultants and their representative units work together to connect you a wide variety of services and experts from across the University of Michigan campus.
Want to attend a workshop?
Workshops are offered throughout the year at various locations. Click "Upcoming Sessions" above, or type a topic of interest in the search box. All Teachtech workshops are free.
Prefer a consultation? 
Not sure what you need, or know what you need but not sure how to get it? Click "Consultants" above to learn more, or email teachtech@umich.edu