Visit our MIVideo website for recordings from 2022 and 2021,
as well as Keynote videos from earlier conferences.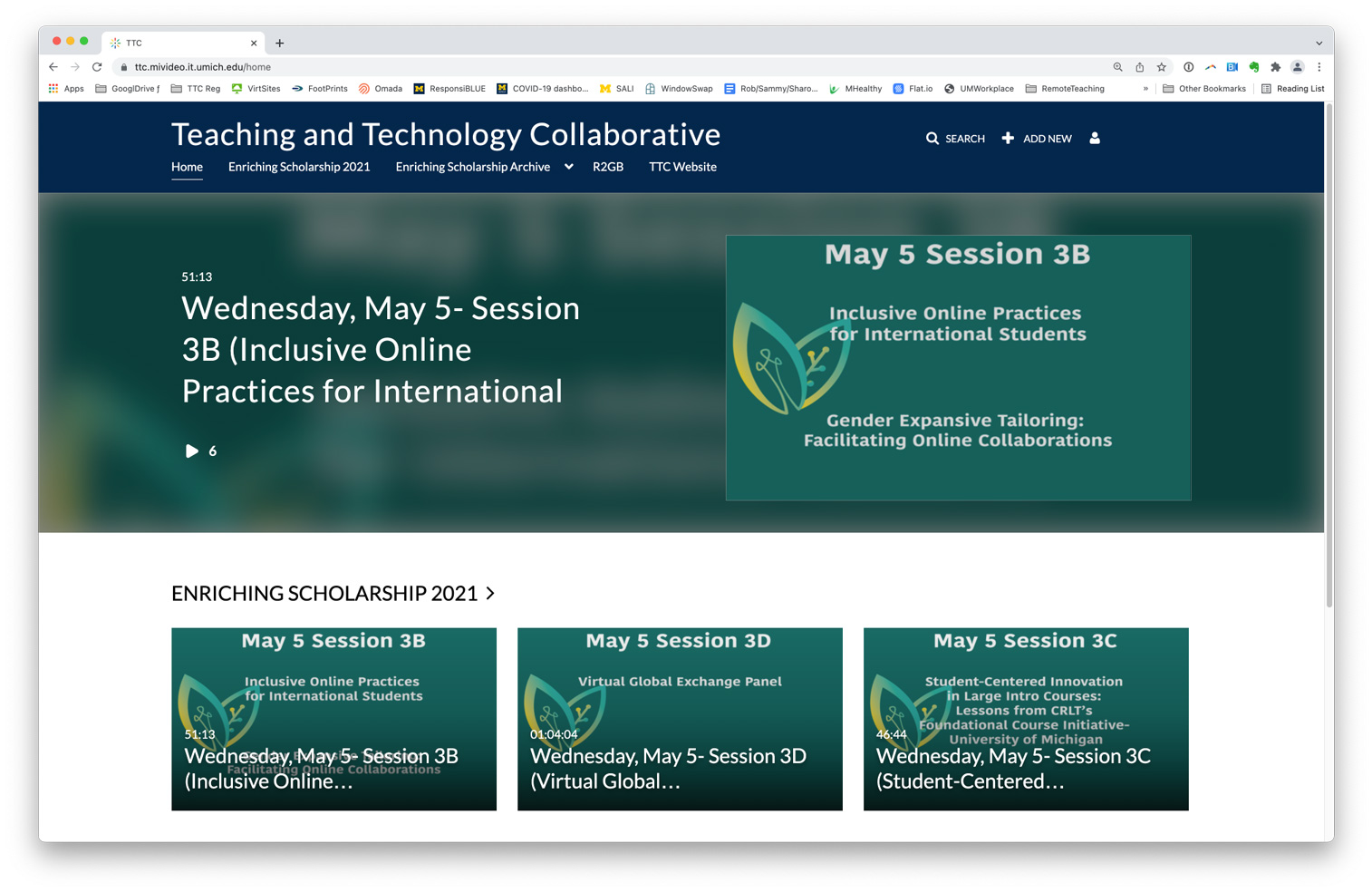 The following list describes keynote topics and speakers since 1998. Individual session titles and descriptions are also available for each year 1998-2019 as Google Drive links.  A table of participation statistics is available at the bottom of this page.
The 2022 conference theme was "Transparency in Teaching and Learning. The virtual conference (May 4-5) highlighted the range of instructional tools and approaches that reveal the implicit or unspoken assumptions and expectations in the curriculum. Sessions focused on increasing transparency and accessibility, creating diverse perspectives, developing 21st century skills, and addressing inequities in technology access. Each day featured an afternoon talk by a keynote speaker, as well as sessions led by U-M faculty, staff, and students. Our Day 1 keynote was Tara Yosso. Prof. Yosso led an overview of their community cultural wealth model, which has been received nationally and internationally as a paradigm shift for the ways we have traditionally thought about schooling structures, practices, and discourse. Our Day 2 keynote was Mary-Ann Winkelmes. Winkelmes' talk was titled "Creating Equitable Learning Opportunities through Transparent Instruction.
Whether you attended in 2022 or not, you can still join the Canvas site and explore the resources.
2021
Our first pandemic conference, held entirely remotely and hosted at a U-M Canvas site. Each day started with a keynote session where 3-5 instructors shared their experiences from teaching remotely.
Community Building & Students' Sense of Belonging
This hour-long "Lightning & Thunder" Keynote session begins with a series of brief lightning talks by Dennis Wilson (UM-School of Music, Theatre & Dance); Benjamin Peters (UM-LSA Global Scholars Program); Ranthony Edmonds and Cathy Ryan (Ohio State University); Lydia Belatèche (University of Minnesota). The second half hour will be devoted to breakout room conversations (the thunder!) to ask questions and discuss applied strategies with the presenters.
Alternative Course Structures & Assessments
This hour-long keynote session begins with a series of brief lightning talks by Pete Bodary (UM-Kinesiology), Chris Bohle (UM-UROP), Nicole Tuttle(UM-Chemistry, LSA), and Pia Banzhaf (Michigan State University). The second half hour will be devoted to breakout room conversations (the thunder!) to ask questions and discuss specific applied strategies with the presenters.
Lasting Lessons for Future Instruction
Leaders within the instructional community at the University of Michigan will discuss the lessons learned throughout the pandemic and the transition to online and hybrid courses and back, including topics around issues of diversity, equity, and inclusion to create more just courses at the university. Moderator: Tim McKay, Arthur F. Thurnau Professor of Physics, Astronomy, and Education, Associate Dean for Undergraduate Education, LSA (UM-Ann Arbor). Panelists: Liz Kolb, Nick Tobier, Doreen Bradley (UM-Ann Arbor); Sarah Silverman (UM-Dearborn).
2020
No conference due to pandemic.
2019
2019 Session Titles and Descriptions (Drive Sheet)
Keynote: Metacognition – The Key to Equity and Excellence for All Students!
Speaker: Dr Saundra McGuire
Dr. Saundra McGuire is the Director Emerita of the Center for Academic Success and Retired Professor of Chemistry at Louisiana State University. She is an internationally renowned expert in the area of learning support and is the author of Teach Students How to Learn and Teach Yourself How to Learn.
21st Century students come to college with widely varying academic skills and motivation levels, and motivating today's students to actively engage in learning activities proves challenging for most faculty. Students may expend very little energy attempting to learn and rely on memorizing information just before examinations. Very often millennial students do not respond as did students in the past to extrinsic motivators such as bonus quizzes and extra credit assignments. However, as James Raffini presents in 150 Ways to Increase Intrinsic Motivation in the Classroom, when the psychoacademic needs of students are met in creative ways, student motivation soars. This talk will help attendees understand why many students expend very little energy on learning and have difficulty achieving student learning outcomes. Cognitive science research based methods that can be used to facilitate conceptual, transferable learning will be discussed. The session will present specific learning strategies that have resulted in significant increases in student effort and improvement in student learning in undergraduate, graduate, and professional school environments.
2018
2018 Session Titles and Descriptions (Drive Sheet)
Keynote: Helping Students Learn In An Age Of Digital Distraction
Speaker: Dr. Katie Linder
Dr. Katie Linder, is an avid writer and researcher with a passion for process and peeking behind the scenes at what it takes to be a successful academic. Currently, she hosts two weekly solo podcasts (You've Got This and The Anatomy of a Book), a weekly interview-based podcast (Research in Action), and a seasonal podcast (AcademiGig) co-hosted with Dr. Sara Langworthy. Katie also writes a weekly essay series. Her most recent book is The Blended Course Design Workbook: A Practical Guide. Katie is also the director of the Oregon State University Ecampus Research Unit and an associate editor for the International Journal for Academic Development. About her planned Keynote Address, Dr. Linder writes:
Our students are inundated with an overwhelming amount of information each day as they navigate social media, peruse various websites, listen to the radio, read print media, and flip through innumerable television channels. Unfortunately, very little of this information is directly connected by our students to their interactions with us in the classroom. In this session, we will explore how to break through the cognitive overload that our students experience on a daily basis and discuss how we can help our students develop effective strategies for learning in the midst of this Age of Digital Distraction.
2017
2017 Session Titles and Descriptions (Drive Sheet)
Keynote: Technology, Diversity, And Complexity
Speaker: Dr. Scott Page
Scott's research focuses on the myriad roles that diversity plays in complex systems. Dr. Page will discuss three trends that drive change in modern universities: advancing technologies, an increasingly diverse student body, staff, and faculty, and growing complexity and interdisciplinarity of inquiry. He writes:
In the right environments, these trends can produce positive synergies: Advances in classroom technology can tap into and leverage diversity. Technology can facilitate engagement with complex problems. And cognitive diversity can improve performance at diverse tasks.
This stands in marked contrast to the options available to U-M's earliest professors, who added chalk to their pedagogical arsenal sometime mid 19th century. The plethora of pedagogical options creates an assignment problem. If I want students to learn X, do I use technology A, B, or C? Should I let the students vote on that?
I will highlight potential benefits and pitfalls of these three trends. I begin by showing the value of cognitive diversity on complex tasks like problem-solving, predicting, and innovation. I then briefly describe the growth in team-based research, made possible by technology and necessary owing to the complexity of problems. Finally, using Canvas and other platforms as exemplars, I show how technological advances enable greater participation and access to diverse data, information, knowledge, tools, and expertise.
2016
2016 Session Titles and Descriptions (Drive Sheet)
Keynote: Learning How To Learn
Speaker: Dr. Barbara Oakley
Many learners, whether graduate students, workers in industry, or even professors, are unaware of best practices in learning, particularly in the STEM disciplines. Instead, they suffer under illusions of competence, continuing with learning practices that research have shown to be ineffective. This talk provides activities and insight into best practices in learning as revealed by insights from neuroscience and cognitive psychology. Building on cutting edge research involving the "default mode network," we'll explore how and when learners should access the brain's different learning modes to creatively tackle problem-solving while reducing frustration.
We will also cover common illusions of competence in learning, such as rereading and using highlighting, and learn how to avoid these challenges by applying more powerful techniques such as recall and "chunking." Simple techniques described here can allow learners of all kinds to more easily tackle procrastination, which can be one of the most deeply harmful impediments to learning. This talk is meant to provide practical, immediately useful tools to help improve learners' ability to stay on top of tough course material of any type, and to help workers in industry more creatively tackle their jobs.
2015
Keynote Event – Unizin: Positioning UM for the Future and Building Our Digital Education Ecosystem
Panelists: Sean DeMonner, Tim McKay, Stacy Morrone, Amin Qazi; Moderator, James Hilton.
As a founding member of the Unizin Consortium, U-M has the opportunity to build and influence the evolving digital learning landscape of higher education. Join us for a conversation with campus leaders to discuss the driving forces behind Unizin and what's in store for U-M instructors, researchers, and students.
Unizin's evolving digital technologies have been designed for sharing and storing faculty-owned content, as well as for analyzing actions and outcomes – all in service to improving learning. The first of these technologies to arrive at U-M is the Canvas learning management system, now being used in over 100 U-M courses. Keynote panelists will discuss how to drive innovation at U-M through experimentation with these digital tools in partnership with other Unizin institutions.
2014
Keynote Address – From Disruption to Design: Technology and the Future of Residential Education
Speaker: Diana Oblinger, President and CEO of EDUCAUSE
Technology is ushering in a new era for education, paving the way for many online learning innovations, including MOOCs, simulations, and games. Students want greater use of technology. Analytics is a growing area for innovation in higher education, as well, improving student decision making, pathways to degrees, and early alerts/interventions to improve student success. New business models are emerging predicated on technology which alter the use of time, faculty, and other resources. How can institutions go beyond using technology as a delivery channel, leveraging it to change the learning experience and catalyze different models of education? This presentation will explore how thoughtful design based on institutional goals and values can enable technology to positively impact teaching, student success, and institutional competitiveness.
2013
Keynote: What Have We Learned From MOOCs? A Panel Discussion of the Implications of Massive Open Online Courses for Teaching and Learning  
Panelists: Gautam Kaul, Eric Rabkin, Caren Stalburg; Moderator: Barry Fishman
The university has recently ventured into the world of the Massive Open Online Course (MOOC) by partnering with Coursera. We will begin our keynote session with an introduction to MOOCs in general and UM's involvement with Coursera in particular, followed by a panel discussion with UM faculty who are teaching Coursera courses. Panelists will discuss their experiences planning and implementing their Coursera courses, with a focus on what lessons we can learn from MOOCs about teaching and learning on campus and in other contexts.
2012
Keynote: Education in the Age of Mobilism: The Inevitable Transformation of the K-12 Classroom
Speaker: Elliot Soloway
The planet is entering headlong into the Age of Mobilism. The hallmark of this new age is connections: connections to people, to events, to places, to things – immediate, multiple, and simultaneous connections. The affordances of a mobile learning device, that miraculously-thin, aluminum-encased slab of glass that is essentially embedded in one's hand, are engendering changes in beliefs, values, and practices in all areas of human endeavor, from accounting to zoological research – and even in K-12!
For the past 40 years or so schools have used computers – desktops to laptops, standalone to online – to "better" implement the existing curriculum – a curriculum that was initially design by the Committee of Ten to prepare students to enter Harvard – in 1892. (It's true – Google it – you will see!) It took the business community 20 years or so to figure out that in order to gain substantive benefit from computing technology one needed to informate, not automate. That is, using the computer to "better" implement an existing business process, i.e., automate, brought only small gains; but when a business process was redefined to take advantage of the affordances of the technology then – and only then – did business see serious, substantial gains. Sadly, K-12 has yet to learn that lesson, generally speaking.
But, we are here to report that some schools have figured out that that mobile learning devices afford students with new opportunities, i.e., informate, to learn and are indeed reaping serious benefits from their use (read: increased test scores).
In this keynote presentation, the speaker will (1) describe the characteristics of this Age of Mobilism and I will (2) describe how those mobile devices are the catalyst in the transformation of the classroom from "I Teach," a teacher-centric, didactic, direct instruction, 19th century, boring and ineffective pedagogy to "We Learn," a student-centric, project-based, inquiry-oriented, 21st-century pedagogy.
2011
Keynote: From Knowledgeable to Knowledge-able: Building New Learning Environments for New Media Environments 
Speaker: Michael Wesch
The new media environment can be disruptive to our current teaching methods and philosophies. As we increasingly move toward an environment of instant and infinite information, it becomes less important for students to know, memorize, or recall information, and more important for them to be able to find, sort, analyze, share, discuss, critique, and create information and knowledge. They need to move from being simply knowledgeable to being knowledge-able. This "knowledge-ability" is not simply a skill set as implied by the "21st Century Skills" movement, but a way of being in-the-world in which people recognize and actively examine, question, and even recreate the (increasingly digital) structures that shape our world. Knowledge-ability must begin with the recognition that new media are not "just tools" but new ways of relating to one another that entail disruptive changes in economic, social, and political structures. This presentation explores what knowledge-ability needs to be, why it is important, and how education can and must change to foster the forms of knowledge-building, epistemology, and self- understanding we need.
2010
Keynote: Peer-Based Learning in a Networked Age
Speaker: Mimi Ito
When you want to learn something new, where do you go for help? You might find a book or search online, but if you have a knowledgeable colleague or friend, chances are you'll go to them first. Learning from our peers is efficient, enjoyable, and responsive to our learning needs. Whether it is gaming, sports, or fan fiction, youth connect to peers who share their interests and fuel their learning. Research has shown that social media can be a powerful driver of interest-driven, peer-based learning, but very few kids or educators were taking full advantage of this potential, particularly for academic learning. This talk will describe the key dynamics of peer-based learning that are supported by today's online environments, and how they can be applied to diverse learning goals.
2009
Keynote: Epic Win: Why Gaming is the Future of Learning
Speaker: Jane McGonigal
Why doesn't the real world seem more like an online game? In the best-designed games, our human experience is perfectly optimized: we have important work to do, we're surrounded by potential collaborators, and we learn quickly and in a low-risk environment. When we're playing a good online game, we get constant useful feedback, we turbo-charge the neurochemistry that makes challenge fun, and we feel an insatiable curiosity about the world around us. None of this is by accident. In fact, game developers have spent three decades figuring out how to make us happier and more collaborative, how to make learning more fun and social, and how to satisfy our hunger for meaning and success. And all of these game-world insights can be applied directly to amplify and augment the way we teach, learn, and do research in the real world. In this talk, you'll learn how online game methods and mechanics can transform our learning communities – and help re-invent higher education as we know it.
2008
Keynote: Bridging the Global Gap: The University, Technology, and You!
Speaker: James Woolliscroft
The theme of this year's Enriching Scholarship Conference is internationalization, focusing on the roles that IT can play in promoting and enhancing internationalization at the University of Michigan. The opening event will feature a keynote address by Dr. Woolliscroft, Dean of the School of Medicine. Dr. Woolliscroft will share with the audience his vision of internationalization for the Medical School, and address issues related to teaching in a global context, managing IT resources, and conducting collaborative research. The opening event also includes a panel discussion of international collaboration and a showcase of innovative uses of technology by UM faculty in collaboration with support units across the campus.
2007
Keynote: Gaming, Social Software and Mobility: Ubiquitous Computing for Teaching
Speaker: Bryan Alexander
The burgeoning interplay of gaming, social software, and mobility present us with exciting, new, and intriguing opportunities for teaching and learning. Web 2.0 projects, gaming, blogs, wikis, online communities, and other first generation ubiquitous computing environments have grown rapidly into large global entities. Education is taking place beyond the academy in all these arenas, as educational innovators and early adopters have made their first moves. Dr. Alexander will outline the contours of what has emerged so far in cyberculture and pedagogy, with discussions of policy and popular culture. A faculty panel will respond to his remarks.
2006
Keynote: Expanding the Learning Ecosystem: Champions of Michigan
Speakers: Maurita Holland, Jeff Stanzler, Steve Pollock, Ann Mann, Thylias Moss, Ben van der Pluijm, Perry Samson
This year's Keynote features Michigan faculty, each working across disciplines, who are expanding the realm of possibility in the classroom. Their exemplary and innovative approaches through highly interactive and reflective activities in the classroom address learning as a complex adaptive system. From role-playing simulation and mentoring to visualization of what occurs in interacting language systems to spatial reasoning, peer instruction, and response systems all are enabled by the thoughtful and meaningful use of electronic tools and classroom space that has been set up for easy use of computer devices. We've been hearing a lot about how today's students are "different." They want more sources of information, faster feedback, multiple media inputs, and high levels of interaction. These are approaches that can benefit both large lecture courses and smaller seminars.
2005
Keynote: Engaging Students: Learning Through Research, Creativity, Trans-Disciplinary Collaboration
Speaker: Brenda Laurel
This year's Keynote features Brenda Laurel, author, Distinguished Engineer at Sun Labs and Chair of the Media Design Program at the Art Center of Design in Pasadena, CA. Dr. Laurel will present her implementation of transmedia project-based work that develops critical and creative thinking, involves students in their communities, and forges team strategies for successful learning. The keynote event also includes a number of hands-on activities with techniques and technologies to engage students in the classroom, including "Cooties" on a Palm, using an audience response system, podcasting, and 3D visualizations. Refreshments will be served.
2004
Keynote: Tempt Your Palate: A Menu of Innovations in Teaching with Technology
Panelists: Richard Judge, Eric Rabkin, Elliot Soloway, Kathryn Tosney, James Hilton
A panel of campus innovators and leaders featuring professors Richard Judge, Eric Rabkin, Elliot Soloway, and Kathryn Tosney, and Associate Provost James Hilton will share the experiences and vision on community and collaboration and their roles in shaping future technology and teaching directions. Topics will include how technology has informed and inspired new forms of scholarship; how students' abilities and expectations have changed in response to a digital world; challenges encountered while integrating technology into the curriculum; and the future for teaching with technology across disciplines.
2003
Keynote: Teaching at the University of Michigan: Inspirations and Challenges
Presenters: Carl Berger, CRLT Players
The session begins with a short, engaging presentation by the CRLT Players, a theater troupe based at UM's Center for Research on Learning and Teaching (CRLT) whose performances are designed to help faculty and graduate student instructors improve student learning. Based on interviews with award-winning UM faculty, the performance will be followed with a talk by Carl Berger, Professor of Science and Technology Education and Advisor in Science and Technology. Berger is best known for his work in exploring how people learn to use technology and for surveying and evaluating faculty and students use of technology. He will expand upon the CRLT Players presentation and reflect upon how technology has changed the way we teach.
2002
Keynote: Making the Most of College
Speaker: Richard J. Light
Based on ten years of interviews with college seniors, Richard J. Light offers encouraging, and surprisingly practical, answers to fundamental questions about teaching and learning. What choices can students, teachers, and university leaders make to improve the student experience and help them achieve the most? Recently honored with the Paul Lazarfeld Award for distinguished contributions to scientific practice and named by Vanderbilt University as one of America's great teachers, Richard J. Light is a professor in the Graduate School of Education and the John F. Kennedy School of Government at Harvard University. He is also the director of the Harvard Assessment Seminars, a consortium that brings together faculty and administrators from 245 colleges and universities.
2001
2001 Postcard with Session Titles (PDF)
Keynote: What is Good Teaching?
Speaker: Bill McKeachie
Bill McKeachie, Professor Emeritus of Psychology at the U-M, is an internationally known figure in college teaching and learning. He will present his perspective on what constitutes good teaching, what research says about good teaching and how good teaching principles constitute the foundation for successful teaching using technology.
2000
2000 Postcard with Session Titles (PDF)
Keynote: Back to the Future: A Little Research, a Little Prognostication, A Little Whimsy
Speaker: Carl Berger
With some help from our recent faculty survey, work with students using technology, some crystal ball gazing and just plain luck, we may be able to create what future we need and want with instructional technology on our campus. (Would you have believed the web 10 years ago?)
1999
1999 Postcard with Session Topics (PDF)
Keynote: Two Sides of the Technology Coin: Perspectives on Enhancing Student Learning and Supporting Faculty Scholarship
Speakers: Barbara O'Keefe, James Hilton
Media Union Director Barbara O'Keefe and Thurnau Professor James Hilton illuminate paths of change the University is taking to support faculty and methods that faculty are using to engage learning by students. Director O'Keefe will share her vision for the role of the Media Union as a resource for faculty on campus. Professor Hilton will demonstrate the kinds of successful interactions and learning experiences that are possible for students when technology is integrated in teaching. Together theses important talks give a context to the goal of the entire week of Enriching Scholarship sessions: to provide faculty opportunities to learn the rich array of tools and resources available on campus to support their scholarship.
1998
1998 Postcard with Session Titles (PDF)
Keynote: Integrating Information and Technology into the Curriculum
Speaker: Lester Monts; Panelists: Melissa Gross, Edna Coffin
This session will provide a broad vision for integrating technology into the University community and will provide an exciting kick-off to the entire week of seminars. There also will be an opportunity to discuss how faculty are currently enhancing courses using technology and library resources. This session will include a keynote address, presentations by distinguished faculty members, and discussion.
Statistics
Statistics are collected each year on the number of sessions offered, the number of unique participants who attended at least one session, and the number of total registrations for each conference. Additionally, sessions are evaluated for quality and appropriateness. Contact teachtech@umich.edu for more information.
| | | | |
| --- | --- | --- | --- |
|   | Number of Sessions | Number of Participants | Number of Registrations |
| 2021 (virtual) | 43 | 382 | 885 |
| 2020 | n/a | n/a | n/a |
| 2019 | 88 | 773 | 2108 |
| 2018 (first year as a 4-day event) | 78 | 658 | 1753 |
| 2017 (last year for the 5-day event) | 102 | 739 | 2244 |
| 2016 | 124 | 821 | 2180 |
| 2015 | 97 | 680 | 1849 |
| 2014 | 121 | 852 | 2515 |
| 2013 | 134 |  903 | 2830 |
| 2012 | 113 |  803 | 2879 |
| 2011 | 117 |  748 | 2737 |
| 2010 | 108 |  628 | 2066 |
| 2009 | 113 |  644 | 2208 |
| 2008 | 109 | 536 | 1923 |
| 2007 | 112 | 568 | 2094 |
| 2006 | 133 | 523 | 1858 |
| 2005 | 121 | 679 | 2101 |
| 2004 | 103 | 546 | 1536 |
| 2003 | 89 | 435 | 1232 |
| 2002 |  92 |  501 | 1412 |
| 2001 |  71 |  388 | 1223 |
| 2000 |  60 |  309 | 1079 |
| 1999 |  64 |  206 | 913 |
| 1998 |  50 |  149 | 803 |